Extra virgin olive oil
Known and used since ancient times, olive oil is the most used fat in the Mediterranean diet. There are countless clinical and epidemiological studies that highlight the nutritional qualities of this food, considered the most suitable for human nutrition, among all dietary fats. A record that comes from a very simple truth: extra virgin olive oil is the only oil to be produced only by squeezing the olives, without the help of chemical solvents or other industrial interventions, as happens instead for other vegetable oils or fats. The extra virgin olive oil has remained a genuine and natural product over the years, an olive juice that transfers all the precious substances contained in the raw material to the oil.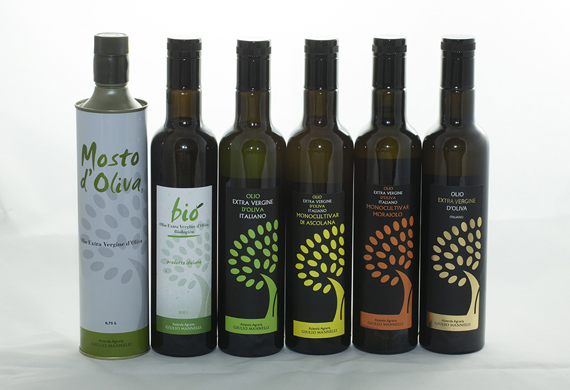 Spreadable creams
We tried to combine genuineness and flavor in the creation of spreads based on cocoa, brown sugar, hazelnuts or pistachios with an exceptional taste and fluidity, enhanced by our precious extra virgin olive oil.
Rich creams, gluten-free, without hydrogenated fats or palm oil.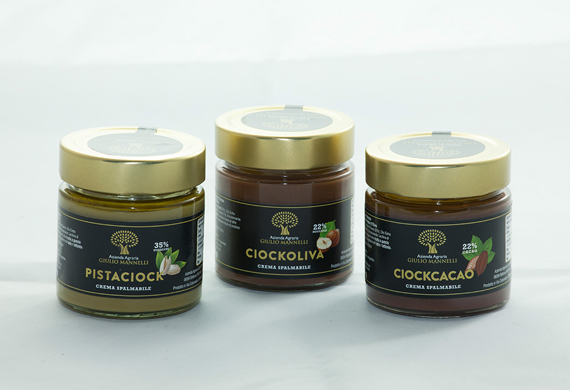 Olives pâté
Our olives, unique for their perfume, persistence and body, are the base of the artisanal pâté of olives (both green and black) that can be used as a simple appetizer spread on canapes or croutons or as a seasoning  for pasta or rice.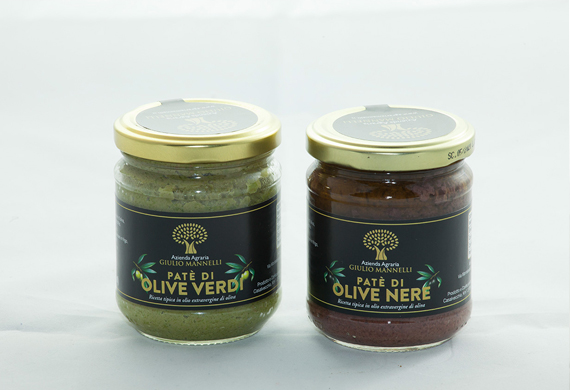 Honey
Honey, like wine and oil, is a living product, closely linked to the territory and brings the properties of the flower from which it derives.
Raw honey has antibacterial, antifungal and antiviral properties. It provides vitamins of  the B and C groups and being made up of simple sugars, such as fructose and glucose, predigested by bees, it is energetic and easy to metabolize.

.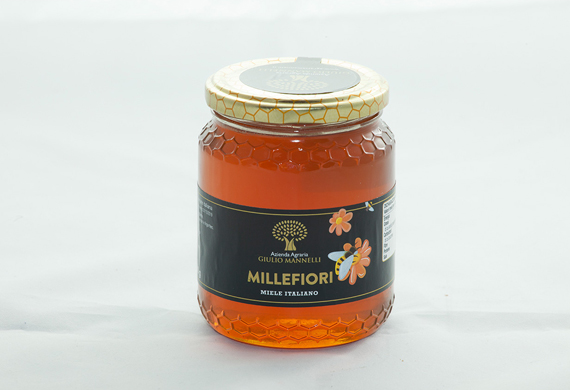 Wines
Bianco Mannelli , with its bright straw yellow, draws its characteristics from the vines of  Vermentino and Pinot Grigio. Its intense and complex scent evokes floral sensations of jasmine, wisteria and aromatic herbs and is the prelude to a soft, fresh, savory taste giving a pleasant persistence. It is  perfect with seafood appetizers and fish dishes but it is also delicious with white meats and fresh cheeses.
Rosso Mannelli is a unique blend of Sangiovese and Merlot with a ruby colour with purple nuances. It is characterized by an excellent aromatic complexity, deep, persistent, accompanied by herbaceous and undergrowth notes with hints of red fruits typical of this habitat. The best pairings with this full-bodied and velvety red wine, but never intrusive, are white meats, red meats, game, roasts, grilled meats, boiled meats, aged cheeses and charcuterie.
Cosmetic products with oil
The Poggio courtesy line is also based on extra virgin olive oil. A fundamental ingredient of the Mediterranean diet but also a precious cosmetic active ingredient thanks to its high antioxidant, moisturizing and protective power due to its natural content of Omega 6 and Omega 9. Moreover it is the oil with the greatest epidermal affinity, because its lipid structure is the most similar to the hydro-lipid film of the skin and allows the restoration of the skin barrier. The products we offer are part of a complete high-efficiency line for brightness and skin protection of the face and body. Taking advantage of the pure extra virgin olive oil, with a high multifunctional activity: antioxidant, moisturizing, elasticizing. It protects from damage caused by UV rays and air pollution.